This is something different. The Ocean Ceiling Projector is a small projection lamp that creates a sparkling wave effect on any ceiling or wall.
Use it in your bedroom, bathroom or living room to transform it into a place of peace and calm, or just bliss out to the trippy colors.
Powered by either plug in A/C or batteries, the Ocean Ceiling Waves Relaxation Projector is also a speaker that you can connect your mp3 player or phone to and play music.
Other features include a switch to change colors and auto shutdown after 1, 2 or 4 hours. Really though, this little device is all about relaxing in your bed or transforming your living room into an underwater paradise.
Check the price and see home pictures here on Amazon.
Relax to the Rhythmic Waves: A Review of the Ocean Ceiling Projector Night Light
So you're in the mood to relax and unwind with the soothing sounds of the ocean, but you don't have the time or means to take a beach trip. No worries, we've got you covered. The Ceiling Waves Projector
Lamp is here to whisk you away to a tranquil seaside escape right from the comfort of your home.
With 12 LED lights and 8 color settings, this little device can transform any room into a coastal paradise. The rhythmic waves are mesmerizing to watch and the soft illumination helps create a calming ambiance perfect for relaxation or sleep.
Whether you want to feel like you're lounging in a beach cabana or drifting off to the gentle crashing of waves, this affordable night light projector is a simple solution for seaside bliss anytime you need it.
An Overview of the Ocean Ceiling Projection Lamp
This multifunctional night light projector lets you drift off to sleep while imagining the gentle rhythm of ocean waves. With 12 LEDs and a rotating optical lens, it creates a realistic moving water effect that's peaceful and calming.
This waves projector lamp offers 8 light color modes, from warm red sunsets to cool blue lagoons. You can set it to slowly fade and transition between colors for an ever-changing seascape. There's also a timer so you can have the night light turn off automatically after 1, 2 or 4 hours.
The Ocean Projection Lamp is ideal for bedrooms, nurseries or dens. It has a simple, minimal design so it blends in discreetly during the day. The accompanying remote control lets you turn the projector on/off, adjust the light effects and set the timer from the comfort of your bed or couch.
Kids and adults alike will love the soothing ocean scenes and ambient lighting this night light provides. For the budget-friendly price, it's a thoughtful gift for beach lovers, new parents or anyone looking to unwind at the end of a long day.
This innovative little projector brings a bit of coastal calm to any room. Once the rolling waves are shining on your walls and ceiling, you'll feel miles away in your own private seaside escape.
Key Features: Remote Control, Timer, and Color Options
If you want to relax at night with the soothing sounds of the ocean, the Ocean Ceiling Projector Night Light is for you. This multifunctional night light offers 8 light color options, a music player, a built-in timer, and remote control convenience.
The included infrared remote lets you control the night light from the comfort of your bed. You can turn it on or off, adjust the timer, and cycle through the 8 available colors: red, green, blue and 5 multicolor options.
The timer gives you options of 1, 2 or 4 hours so you can fall asleep to the peaceful light and sounds of the waves, knowing it will automatically shut off once you've drifted off to dreamland.
The color options allow you to set the perfect mood and ambiance for relaxation or romance. Red colors create a warmer glow, while blues and greens are more calming.
The rotating RGB mode slowly transitions between all the colors for a mesmerizing rainbow effect. With 8 modes, there's an option for any mood.
This multipurpose night light and sound machine in one is ideal for adults, children and nurseries alike. Its compact size means you can place it almost anywhere – on a bedside table, desk, dresser or shelf.
For the ultimate relaxation experience, pair the light show with the included nature and ocean wave sounds or your own calming music. Sweet dreams.
Benefits of the Ocean Wave Projector: Relaxation and Ambiance
The Ocean Waves Night Light offers some great benefits for relaxation and creating ambiance. The rippling blue light can have a calming, meditative effect as you watch the waves roll by.
Turn off the lights, curl up in your favorite chair or slip into bed, and get mesmerized by the rhythmic motion of the waves. The repetitive nature of the moving lights is ideal for unwinding an overactive mind and lulling yourself into a peaceful state.
Studies show that reducing light exposure before bed can be relaxing and help shift your body into sleep mode. The eight different light modes, like aqua green or sky blue, allow you to choose the perfect calming color for your mood.
This little gadget also makes a wonderful night light for both kids and adults. The soft glow gives enough light to avoid stubbing your toe in the dark without being too bright. And who doesn't love watching the magical dance of color across the walls and ceiling? It's like an underwater light show in your own room.
This multicolor ocean wave light projector lamp is ideal for creating a spa-like ambiance or Zen space. Place it in your bathroom, bedroom or living room for instant relaxation.
The LED bulbs require little energy so you can keep it on as long as you like without guilt. Why pay for an expensive sound machine when you have the soothing presence of gently lapping waves of the sea? Close your eyes, take some deep breaths and let your troubles drift away on the tides.
Whether you want to unwind before bed, create a calming space or simply enjoy the peaceful effects of the rolling waves of light, the Ocean Waves Night Light has much to offer for relaxation and
ambiance. Let the rhythmic motion of the lights wash away your worries and lull you into tranquility. After a long stressful day, you deserve to relax to the rhythmic waves.
Setup and Usage: Plug-and-Play Simplicity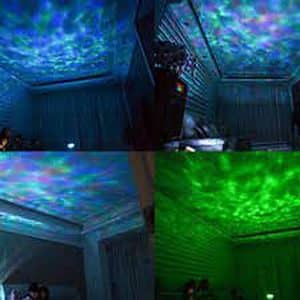 The Ocean Ceiling Projector is incredibly easy to set up and use. Simply plug it in, turn it on, and enjoy the show.
To get started, locate an outlet near where you want to use the projector, like on a bedside table, desk or shelf. Plug your USB adapter into the outlet and turn on the power switch located on the cord.
The projector will automatically start cycling through the 8 color modes, projecting calming ocean waves onto your walls and ceiling.
If you want to change the color mode or turn on the timer function, use the included remote control. The remote is straightforward to operate with clearly labeled buttons.
To change the color, press the "Light Mode" button to cycle through blue, green, red and a variety of multicolor options. To set the timer, press the "Timer" button to choose 1, 2 or 4 hours. The projector will automatically turn off after the set time for convenient usage before bed or during the night.
This Ceiling Light Show Projector produces a realistic rippling water effect that is both soothing and hypnotic. My kids love watching the wavy lights at night to unwind before bedtime.
I've even used it during meditation or yoga practices to help relax my mind and body. The rhythmic pulses have an almost therapeutic quality.
For such an affordable little gadget, this night light projector packs a lot of simple enjoyment. It's a great way to bring a calming, coastal vibe to any space. If you're looking for a easy, versatile way to unwind in
the evening, you can't go wrong with this plug-and-play projector.
Final Verdict: A Soothing Light for Adults and Kids Alike
If you're looking for a calming night light that provides ambient lighting effects, the Ocean Ceiling Projector could be a great option. This multifunctional gadget offers a variety of light shows that can
transform any space into a serene seaside escape.
This ocean projection lamp features 12 LED lights that project undulating wave patterns onto walls and ceilings. With the included remote, you can adjust the color, speed and brightness of the waves.
Choose between eight color patterns like peaceful blue, tranquil turquoise, energizing red and many multicolor options. For the ultimate relaxing experience, set the timer so the waves continue lapping for 60 or 120 minutes after you drift off to sleep.
Both kids and adults will find the gently rolling waves mesmerizing and mood-boosting. The Ocean Wave Projector and Speaker could be ideal for a child's bedroom or playroom, helping to establish a calming bedtime routine.
In an adult's room, the soft illumination and repetitive wave motion can aid with relaxation, stress relief, and sleep. The watery light show may also bring back memories of peaceful beach getaways.
For its affordable price here on Amazon, the Ocean Ceiling Projector Lamp offers good value considering its multiple lighting effects, customization options and included music player.
The only downside is that a few customers have reported receiving faulty units, so be sure to test the projector when it arrives and take advantage of the 30-day return window if needed.
Overall, if you're looking for an inexpensive self-care tool or night light, the Ocean Ceiling Projector could make waves. Its soothing ambiance can help you ride the waves of relaxation each evening as you drift off to sleep.